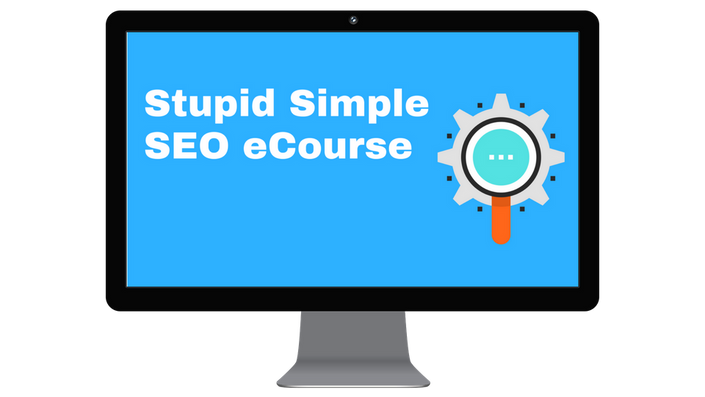 Stupid Simple SEO
The Step-By-Step Formula Loved By 600+ Bloggers To Rank Higher In Google And Get More Organic Traffic To Your Blog With SEO
What if your blog ranked higher in Google, attracted thousands of more visitors, exploded your income, and helped give you the freedom to live the life you deserve?

Hey there, blogger friend—maybe some of these things sound familiar?
1. You know SEO is crucial for growing your blog, but you have no idea where to start.
Everyone's talking about how important SEO is for blog growth these days, but nobody's come up with a step-by-step plan showing you how to do it.
Do you start with keywords?
How do you know what kind of content Google loves?
How do you build quality backlinks?
How do you optimize your old content for SEO?
You have a million and one questions.
2. You think SEO is wayyyyy too complicated and requires a bunch of expensive tools & software.
The way some people talk about SEO, you'd think you need an engineering degree from Stanford to understand it, and $200 per month to pay for all the tools.
Here's the truth about SEO: once you know what you're doing, it really isn't that hard (and the only paid tool you need in this course is a 7-day trial that costs ... $7).
3. You know you shouldn't be relying on Pinterest for all your traffic, you just don't know where to get started with Google.
Let's be honest: you're probably one Pinterest update away from wiping out all your traffic.
Do all those Pinterest updates, Smart Feed changes, account bans, and wild fluctuations in your traffic have you wishing you could count on another traffic source so you don't have all your eggs in one Pinterest basket?
4. You know you should focus on things like keyword research, publishing epic content, and blogger outreach, you're just stuck on how to do actually do it.
At the end of the day, SEO really comes down to these three things: doing the right keyword research, creating amazing content, and building links that increases your domain authority.
If you don't have a plan in place for all three things, you'll never rank in Google.
The good news?
This course gives you access to 47 dedicated lessons showing you how to be strategic about just these 3 things (plus a lot more)!
5. You've seen other bloggers have a lot of success with SEO and you just wish you could figure it out too.
It can be so frustrating seeing other bloggers get thousands of visitors per month from Google, but not being able to do the same thing.
One of my students, Sara from Gathering Dreams, was getting 6,000 page views from Google before signing up.
You know how many page views Google gives her now, after implementing the strategies taught in the course? 150,000+ per month!
Look: you know how important it is to rank in Google, you just need a step-by-step process for making it happen!
After failing miserably, I finally figured out how to grow my traffic with SEO the right way, taking a brand new blog from $0 to $95,000 per year in passive income while working a full time job
Hey guys, my name is Mike Pearson, and I've been growing websites with SEO for more than six years now.
And the truth is, it took me a long time to finally "figure it out", and a lot of my websites were complete failures because I was making all the same mistakes many bloggers do when it comes with SEO.
It's embarrassing to talk about now, but this is actually one of the first sites I built when I was first starting out: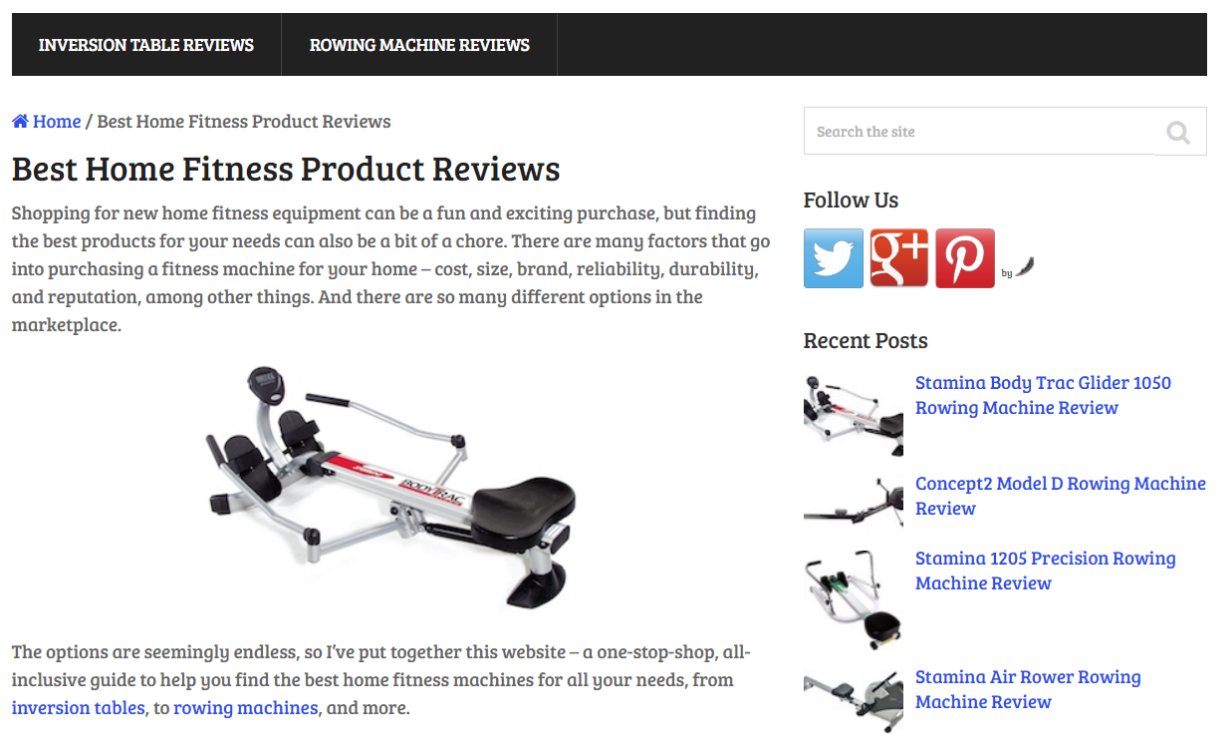 It was a "fitness blog" (if you can even call it that) that "reviewed" different fitness equipment and made affiliate commissions on Amazon.
At the time, I was pretty clueless with my SEO.
I was creating horrible content, I wasn't doing proper keyword research, and my idea of "building backlinks" was simply buying spam link packages on Fiverr.
I was jumping from doing one thing to the next because I was lost.
The thing is, back in 2014 when I first launched this site, these types of SEO "strategies" actually worked because Google wasn't as sophisticated as it is now, and at the end of that year I had my first $5,000 month on Amazon:
But because I was taking shortcuts with my SEO by publishing mediocre content and building the wrong kind of links, it wasn't long before Google eventually caught on and penalized my site … hard ...

I lost all of my traffic and overnight I went from making $5,000 per month to making $0.
Not only that, but because I was taking shortcuts with my SEO, I had wasted a ton of time and money on things that didn't have any long term potential.
But this experience taught me that when done the right way, SEO was an incredibly powerful tool that could drive serious traffic and revenue to any blog.
And so I started again.
This time, though, I would use my experiences and learn from my mistakes so that I could leverage SEO to grow a blog the right way.
So I decided start a different blog, this time in the hiking & backpacking niche.
This time, I approached my SEO in a totally different way.
And by the end of that blog's second year, I grew the site to more than 1 million unique pageviews …
With the vast majority of that traffic coming not from Facebook or Pinterest …
But organic Google search …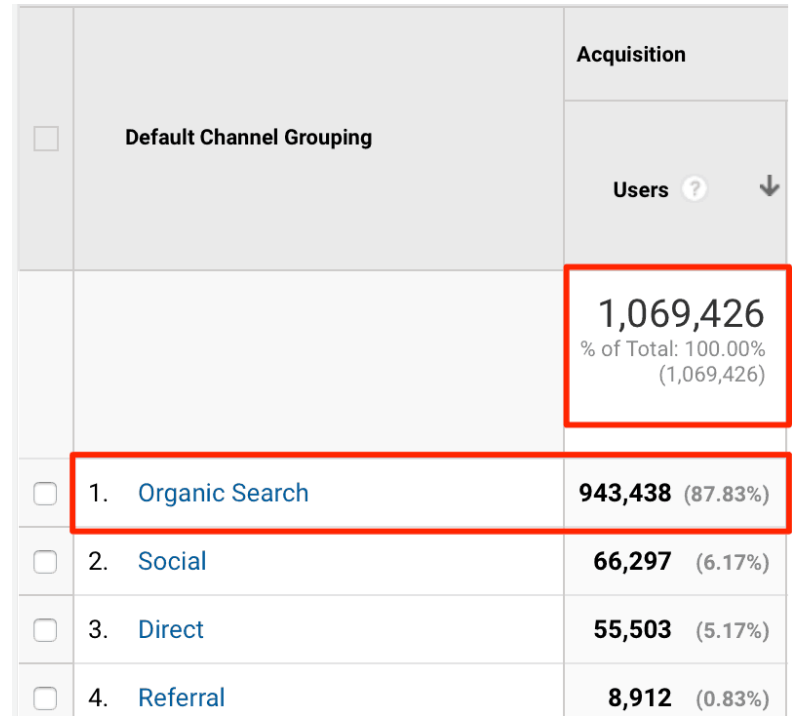 And as a result of all this traffic, this blog earned more than $95,000 in (passive) affiliate income from Amazon ...

Before I sold it off for multiple six figures.
All while I was still working a full-time job.
You too can get more organic traffic and sales with this step-by-step SEO blueprint 600+ bloggers just like you have followed ...
Are you one of those bloggers confused and maybe even a little intimidated by SEO?
Are you just looking for a process to guide you along and show you how to rank higher in Google?
I'll be honest with you:
If you don't have a proven, step-by-step blueprint to follow, you're going to do more harm than good with your SEO.
Because you're going to be wasting time focusing on the things that DON'T move the needle, and for the things that DO matter, if you don't know what you're doing, chances are you're going to do it wrong.
So what's the answer?
A tested, step-by-step, over-the-shoulder program that shows you EXACTLY what you need to do, and when you need to do it.
In this SEO course that over 600 bloggers have taken (and loved—see below), I explain what all the core SEO concepts are, why they're important, and best of all, I show you exactly how to implement them yourself ...
So that you get more love from Google and don't have to be so dependent on the Pinterest algorithm anymore.
Best of all, I created the course to be extremely easy-to-follow, step-by-step, actionable, and with zero fluff.
But before I show you what's inside the course, let's take a look at 5 common SEO mistakes you're probably making right now (trust me, I've fallen victim to all of them!)
5 Common SEO Mistakes You're Probably Making With Your Blog
---
1. You think SEO is too hard and confusing.
The truth is, most SEO "experts" make their living by over-complicating things to make you feel it's something you can't do yourself.
And because you don't even know where to get started, you get paralyzed by indecision and then don't take ANY action.
But here's the thing: when you break it down into plain English and easy-to-follow, actionable concepts, SEO really is "stupid simple".
2. You don't know how to satisfy user intent.
Want to know Google's ONE main goal when it comes to ranking pages?
To make their users happy.
Chances are, when you're targeting keywords and publishing content on your blog, you're missing the mark on the all-important "user intent".
In other words, you're not understanding WHY users are searching for a specific keyword, and you're serving up the wrong kind of content—which can seriously hurt your rankings.
I'll show you how to understand the user intent behind any keyword, and how to craft content that immediately satisfies what a user is looking for.
3. You think keyword research is about picking out just one keyword and letting the Yoast plugin take care of everything else.
You may think you're doing keyword research properly, but chances are you're not targeting keywords that will bring you the right kinds of traffic, and you're going after keywords that are too competitive.
Worse yet, you're missing out on tons of traffic by not reverse-engineering what your competitors are ranking for.
I'll give you an over-the-shoulder approach to my unique approach to keyword research that takes out all of the frustrating guesswork.
4. You don't understand how to create quality content that ranks.
Google is all about quality content, not quantity.
If you're pumping out 500-word blog posts 3x a week just so you can say that you're "posting consistently", then you're doing it wrong.
You'll learn exactly how to research, outline, and create EPIC content that ranks.
5. You're afraid to promote your content to other bloggers and influencers.
I get it—putting yourself and your content out there in front of other bloggers can seem really intimidating.
But the reality is this: getting high quality backlinks to your blog is the #1 ranking factor in Google, and can mean the difference between getting thousands of Google visitors per month vs getting none.
In 5 dedicated link building modules, I show you step-by-step how to build relevant, high quality backlinks that will shoot your blog up the Google search results.
These are the tactics I've personally used to get my brand new personal finance blog (CreditTakeoff.com) featured on such massive authority sites like CreditCards.com, Investopedia, QuickBooks, The Simple Dollar, HuffPost, and LendingTree.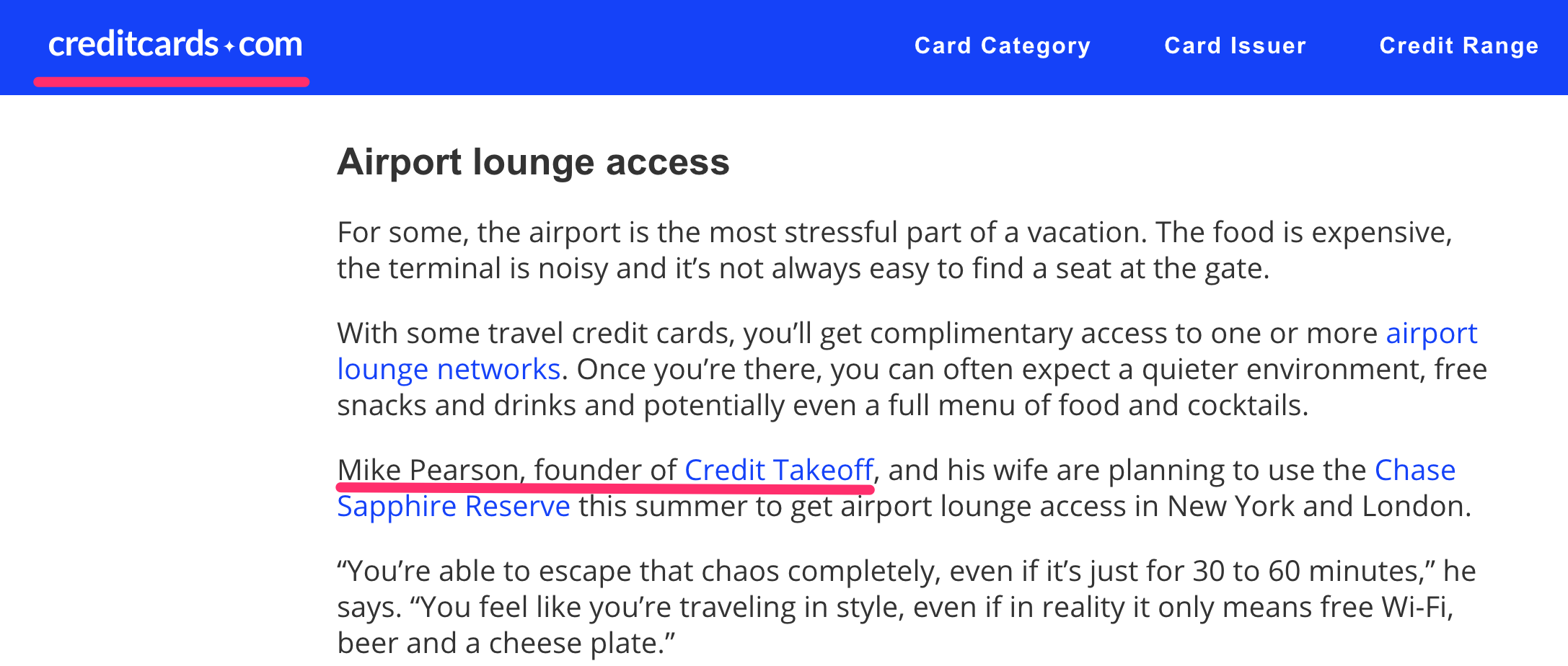 After these comprehensive link-building modules, you won't have ANY more uncertainty when it comes to building high-quality backlinks to your blog.
Introducing …
Stupid Simple SEO
---
The Step-By-Step SEO Formula For Ranking Your Blog Quickly In Google And Increasing Your Organic Traffic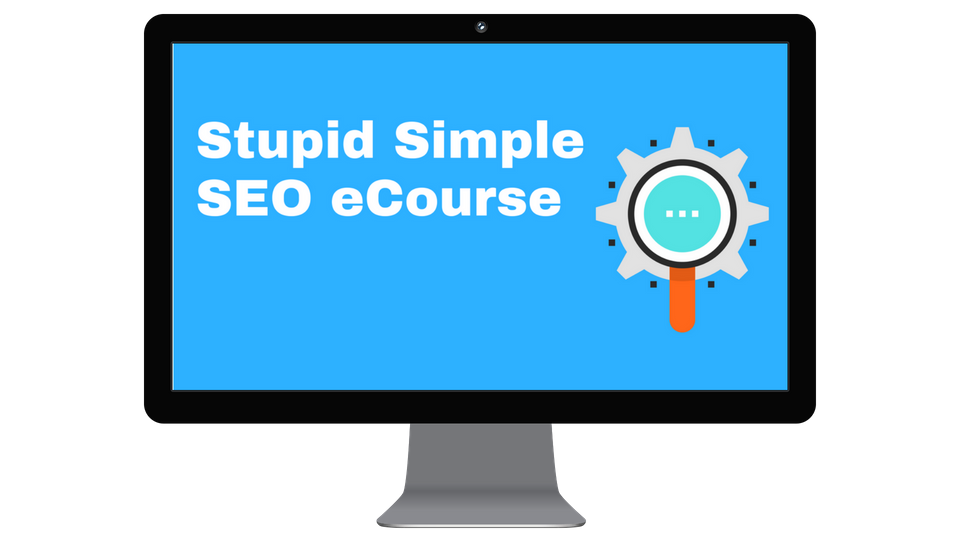 Let's take a look inside what you will learn inside each of the 12 modules ...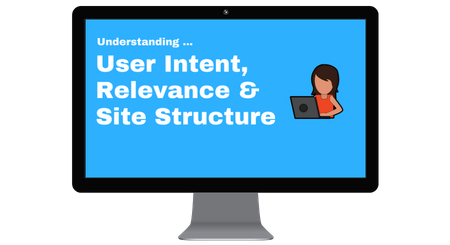 Modules 1 & 2 — User Intent, Relevance, and Site Structure
---
When you're setting up your blog for success in Google, it all starts with understanding user intent and contextual relevance.
Here's exactly what you'll learn:
Why missing the mark on user intent and user satisfaction can cripple your SEO efforts before they even begin

How to structure your site for optimal SEO performance

How to design an SEO-friendly homepage

Which plugins to use for optimal SEO performance

How to make sure your blog is relevant to the keywords you're going after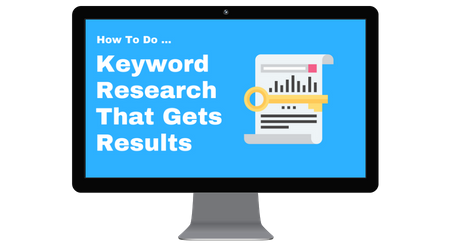 Module 3 — How To Do Keyword Research That Gets Results
---
Tired of doing hours of keyword research that doesn't yield any results?
Don't know what makes a "good" keyword vs a "bad" one?
In this jam-packed 9-lesson module, I'll show you ...
Why competitor research trumps traditional keyword research

How to spy on your competitors' top keywords

How to determine whether a keyword is too "competitive"

How to optimize your existing content for keywords that you're missing out on
Many of my students have uncovered several months' worth of content ideas with this method.
Being honest, this Module alone is worth the price of admission.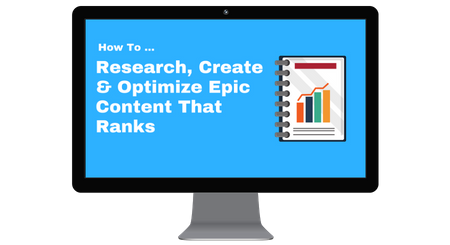 Module 4 — How To Research, Create, And Optimize Epic Content That Ranks
---
Unsure of what kind of content Google loves?
If you've ever sat down to write a post that's optimized for SEO, you know the process of creating great content can be confusing and time-consuming.
After you've done your keyword research, I'll show you how to ace the next step in the process.
For example, you'll learn:
How to research and outline your content before you even start writing

How to find related, long-tail keywords to sprinkle into your posts

The key to creating EPIC content that ranks

How to set up your on-page SEO the right way (and why you just can't trust the Yoast plugin)

How to perform an SEO content audit so you can identify underperforming posts and have a game plan for how to deal with them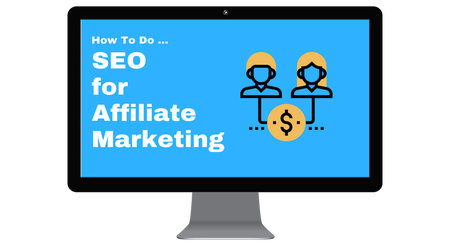 Module 5 — How To Do SEO For Affiliate Marketing
---
Ranking high in Google is great, but the name of the game is making money from your blog posts.
In this module, you'll learn
Why being able to identify where a user is along the "sales funnel" is so crucial to creating affiliate content

How to quickly and easily find affiliate-type keywords that you can target

How to create the two types of affiliate content that drive sales
I've made nearly $200,000 in the Amazon Associates program and I tell you exactly how I did it in this module.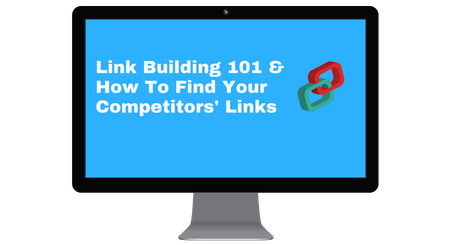 Modules 6 & 7 — Link Building 101 & How To Get The Links Your Competition Has
---
If you don't know anything about link building yet, this is the place to start.
I show you exactly:
Why building links to your blog is so important to ranking

How to get into the "outreach mindset"

What makes a good link vs a bad link (not all links are created equally)

How to find your competitors' links so you can get them too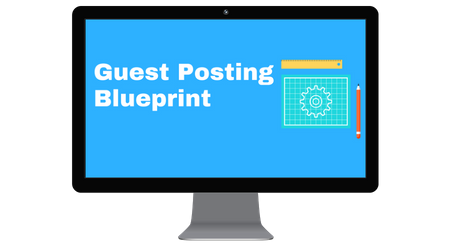 Module 8 — Guest Posting Blueprint
---
In many niches, guest posting is one of the best way to build links, but do you have a process in place that allows you to find guest posting opportunities, how to send your pitches, and how to land your links?
This "blueprint" walks you through exactly that, step-by-step, including:
How to find the right guest posting opportunities for your blog

How to craft the perfect guest post pitch that gets you a "yes" in reply (template included)

How to write your guest post for maximum SEO benefits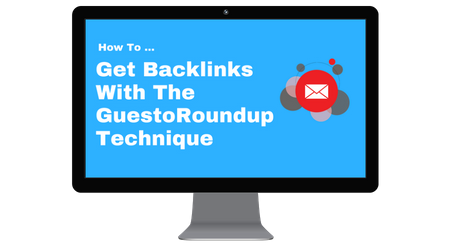 Module 9 — How to Get Backlinks With The GuestoRoundup Technique
---
The "GuestoRoundup" is a technique I developed that puts a little "twist" on guest posting by adding one additional step to the process, which can greatly increase your odds of getting a response.
Not only that, but it allows you to build true relationships with other bloggers in your niche that can accelerate the growth of your blog exponentially.
You'll learn:
How to choose the perfect topic for your roundup post

How to find the right mix bloggers to participate in your roundup

How to write a roundup post that gets shares and links

How to leverage your roundup post into more guest posting opportunities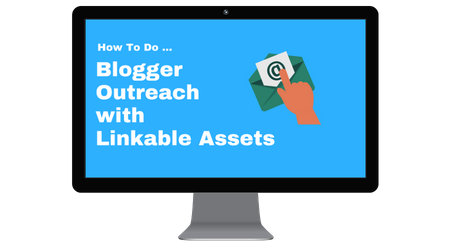 Module 10 — How To Do Blogger Outreach With Linkable Assets
---
One of the most important lessons I've learned when it comes to SEO is that when you have great content on your site, you cannot be afraid to promote it.
I'll show you everything you need to know about blogger outreach and "linkable assets", including:
Brainstorming your content ideas

Creating a piece of content that attract links

Sending emails to influencers in your niche so that they'll link to and share your content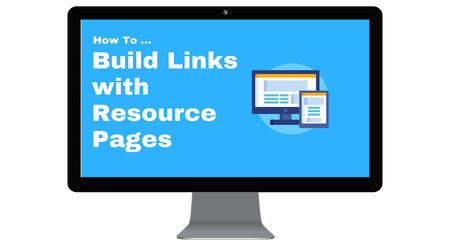 Module 11 — How To Build Links With Resource Pages
---
Resource page link building is an awesome link building strategy that gets results, and I can guarantee other bloggers in your niche are not using this method.
In this module, I'll show you:
How to find resource pages who will link to you

A simple, short outreach email template to persuade other site owners to link to your content.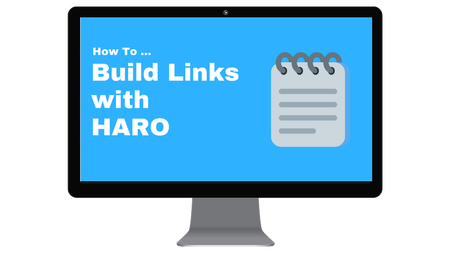 Module 12 — How To Build Links With HARO
---
How would you like to get links from the highest-authority sites in your niche?
Not only that, but how would you feel if those sites were actively looking for you to pitch them ideas to include in their content?
If that sounds too good to be true, it's not.
This new module walks you through how to use a free service called Help A Reporter Out (HARO) to get your name and blog featured on the biggest sites on the internet, exactly like I've done with my personal finance site.
Real Life, Unfiltered Student Testimonials
Over 600 bloggers just like you have gone through my Stupid Simple SEO training program.
Are you wondering what people are saying about the course?
I mean actually saying, to other bloggers in Facebook groups, in real life?
Here I've highlighted some real life, unfiltered, and unprompted testimonials and success stories from bloggers in all kinds of niches and different levels of experience.
Real testimonials from real bloggers.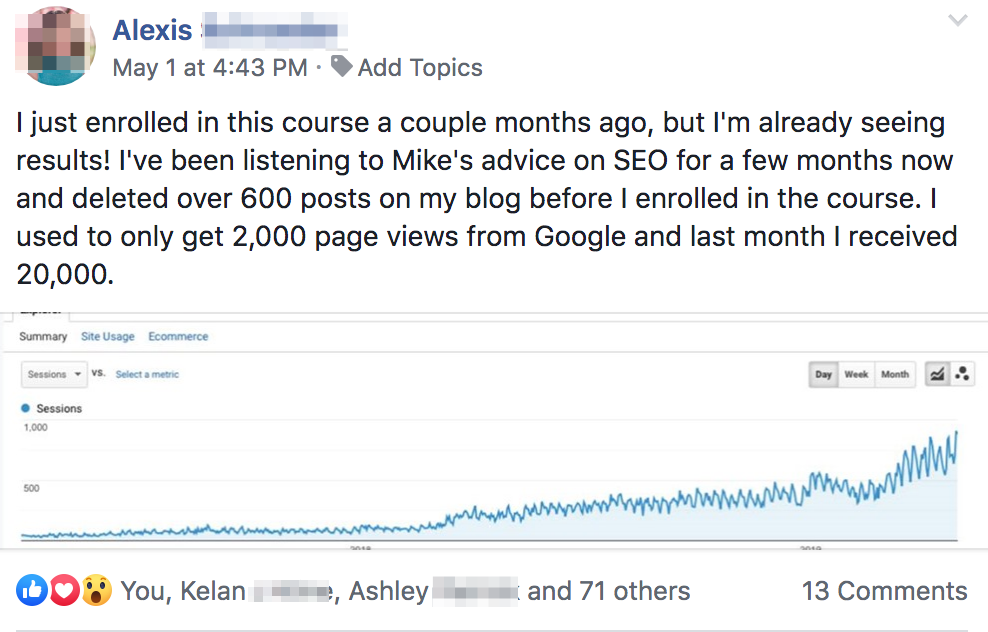 ---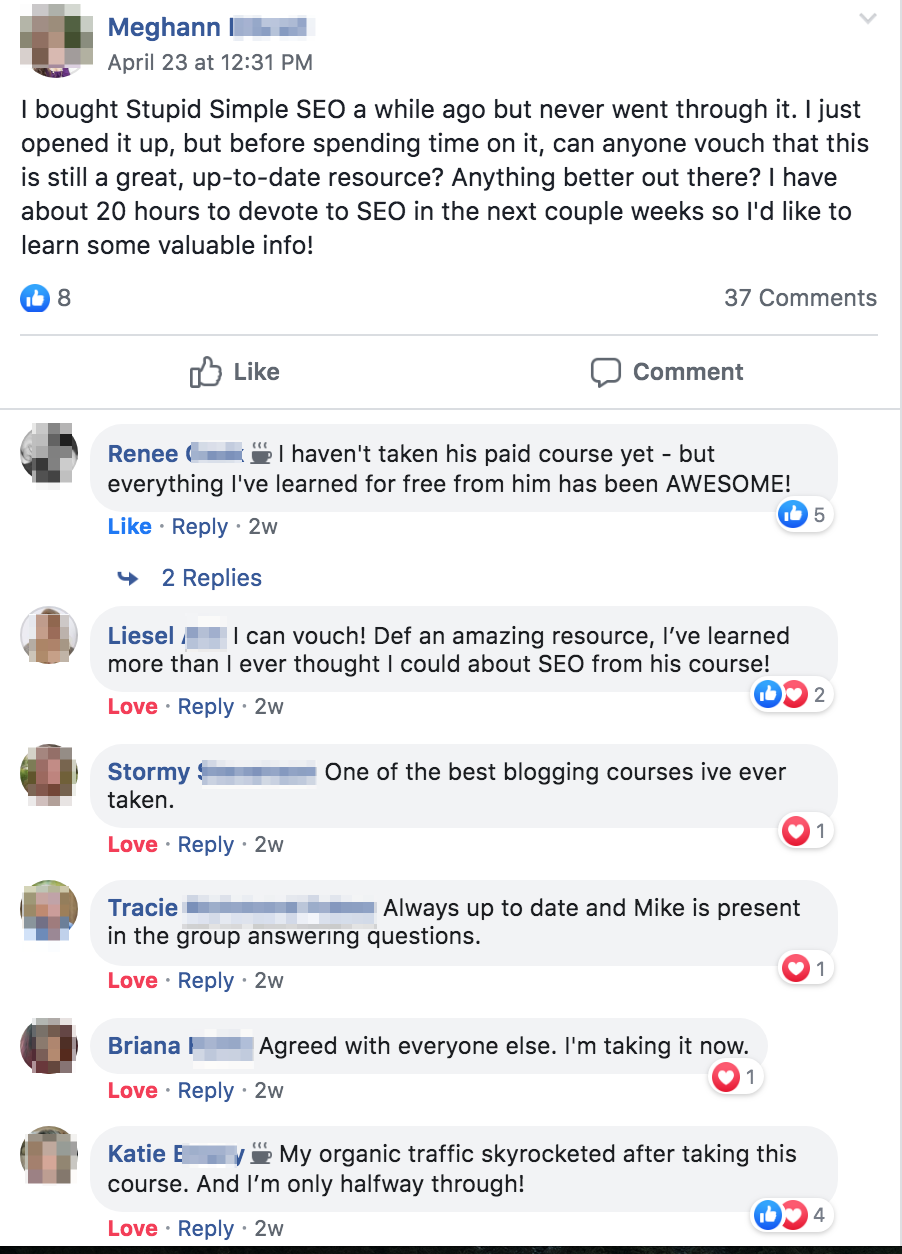 ---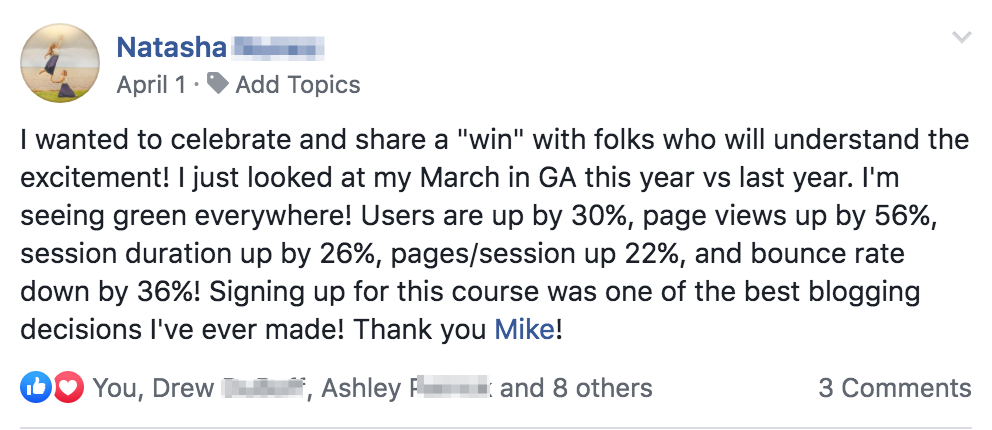 ---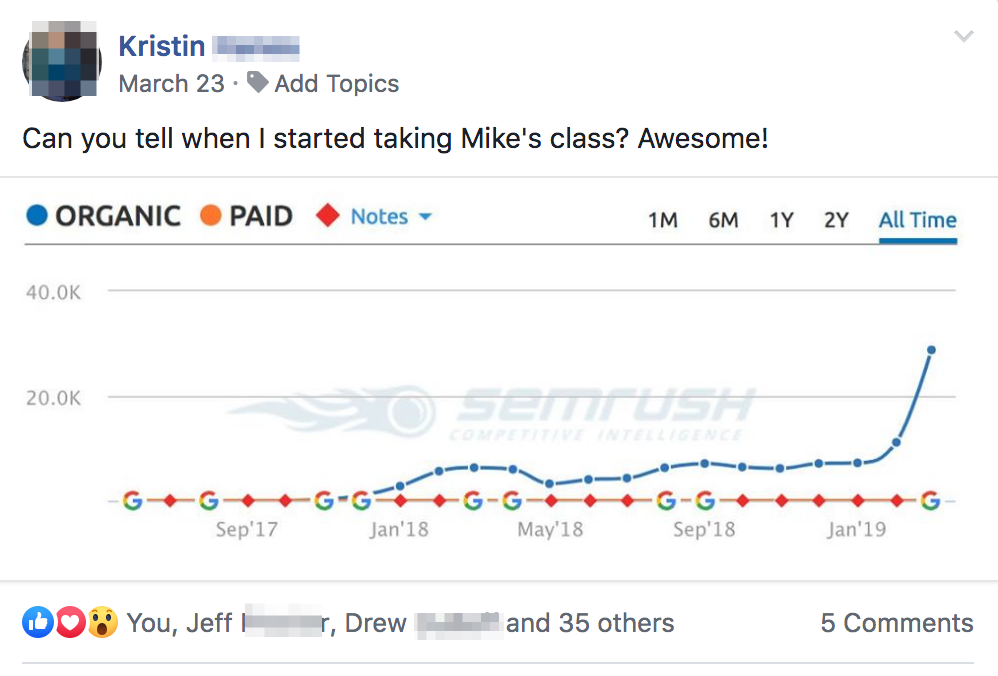 ---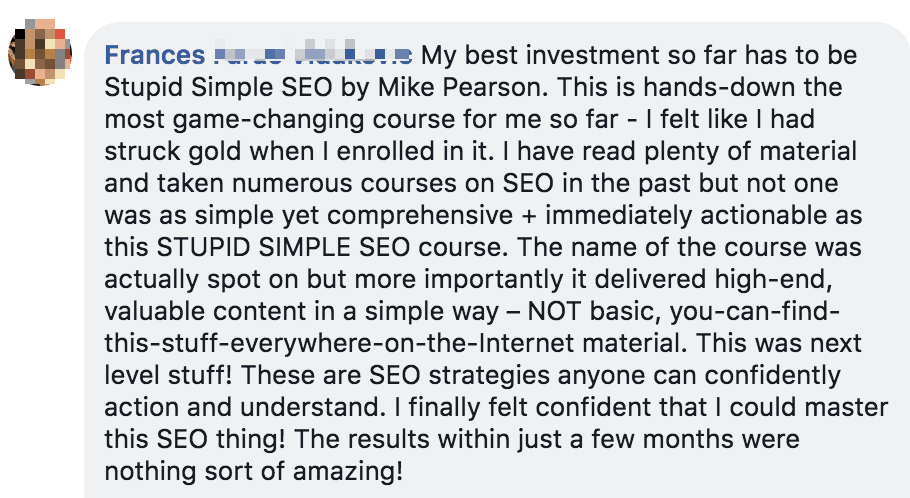 ---
---

---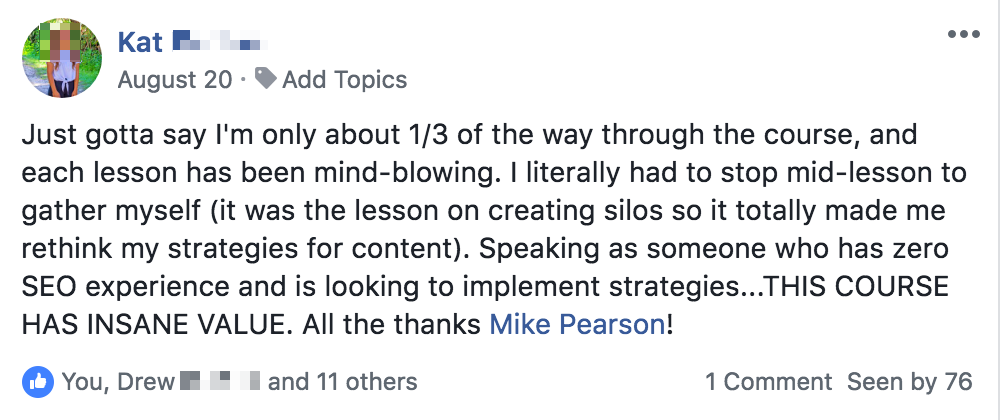 ---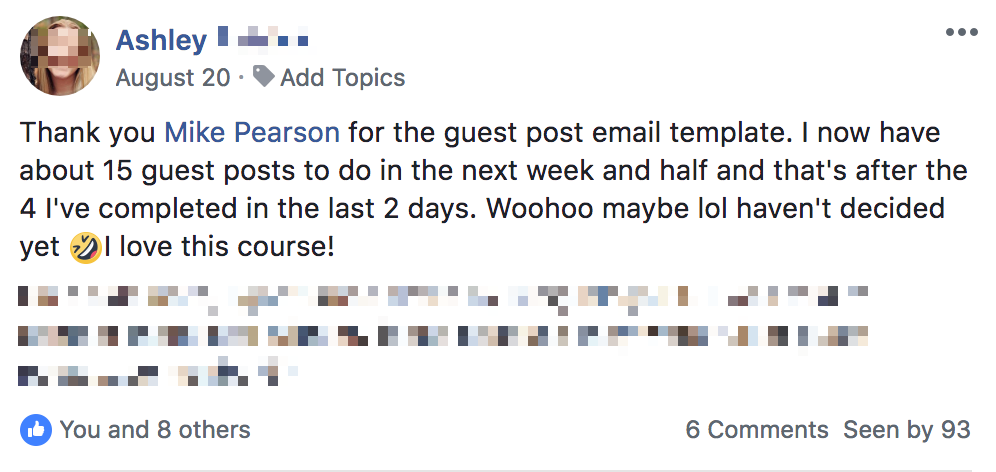 ---

---

---

---

---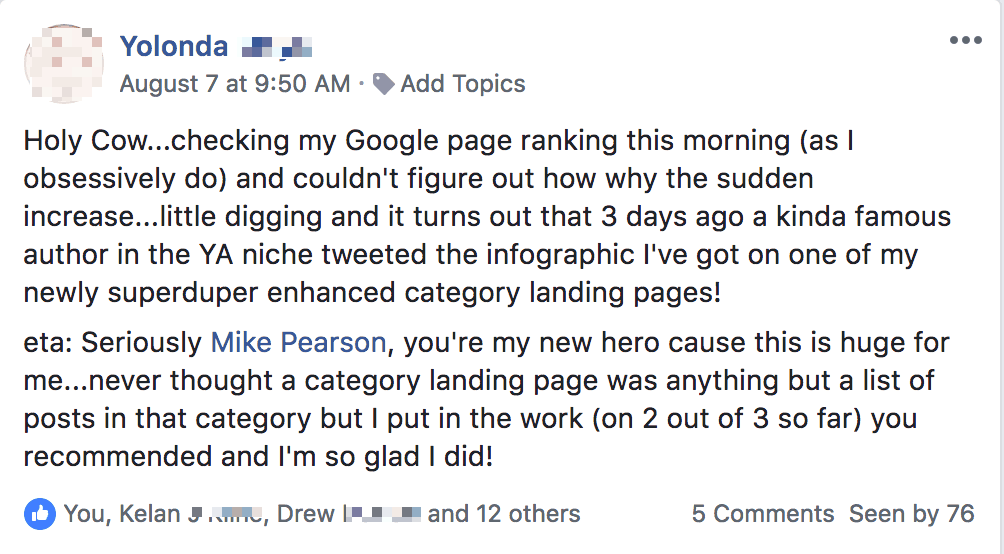 ---
Want To See What's Included? Check Out All The Lessons You'll Get Access To ...
Class Curriculum
Facebook Group & Bonus Material
Available in days
days after you enroll
Introduction To The Course
Available in days
days after you enroll
*****IMPORTANT: Your Ahrefs 7-Day Trial*****
Available in days
days after you enroll
Stupid Simple SEO Also Comes With These Awesome Bonuses!
You'll Get ...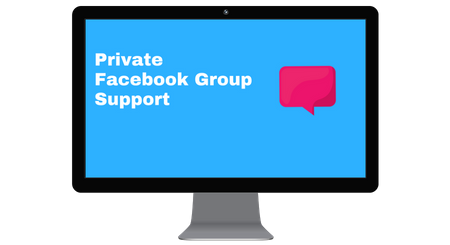 Bonus #1. Private Facebook Group Support
Even though I walk you through everything you need to know about SEO step-by-step, you're inevitably going to have some questions.
And in this extremely active, members-only Facebook group, you'll be able to ask me directly about the program and the SEO progress of your blog.
And this is not one of those course Facebook groups where the course creator is nowhere to be found and they outsource the entire group to a group "admin".
No, the only "admin" in this group is ME and you will have direct access to ask me whatever's on your mind.
You'll also be able to chat with other bloggers to discuss new ideas and develop new SEO strategies.
And I'm not at liberty to name-drop anyone, but trust me when I say there are some BIG NAME bloggers in this group.
This is probably the most underrated part of joining the course and is worth the price of admission by itself.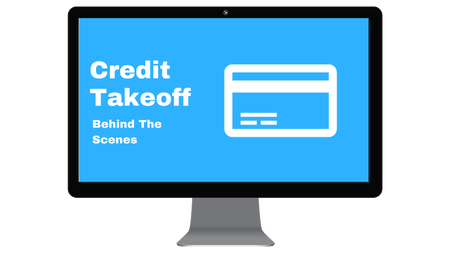 Bonus #2. Credit Takeoff (Behind The Scenes)
At the beginning of 2019, I started a brand new site in the credit niche (CreditTakeoff.com), and I thought it would be fun to document every one of my steps along the way as I build out the site.
So I've decided to produce some "behind the scenes" videos to include as an extra Bonus in the course, which cover things like:
Niche selection, branding & setting up the site, monetization & traffic strategies, mapping out a content strategy, hiring & managing freelance writers, and building high-quality links.
To be sure, the site is still in its early days, but so far I've been able to build links from such personal finance powerhouse sites like CreditCards.com, The Simple Dollar, GoBankingRates, Investopedia, and QuickBooks.
And I have BIG plans for the site going forward.
And as I create more content, build more links, rank higher in Google, and get more traffic, I'll give you an inside peek of how it all plays out, every step of the way.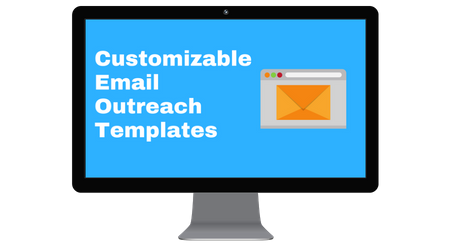 Bonus #3. Email Outreach Templates
Ready to reach out to other bloggers for a guest posting opportunity or infographic submission?
One of the biggest challenges of doing blogger outreach is crafting the perfect email.
This bonus includes custom email plug-and-play outreach templates, where you simply copy and paste the templates, change a few minor details, and hit send.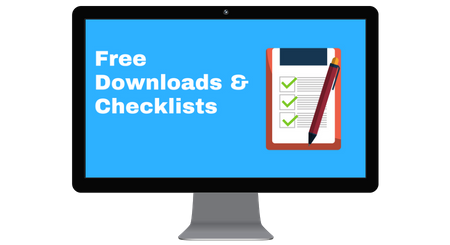 Bonus #4. Free Downloads & Checklists
Keeping track of all your keyword ideas, on-page SEO, and blogger outreach emails can be a huge challenge if you're not super-organized.
That's why I've re-created the exact same spreadsheets I use to track my link building campaigns and which keywords I'm targeting, and checklists that tell you if your on-page SEO is looking good and if you should go after a certain keyword.
More Unscripted Student Testimonials & Success Stories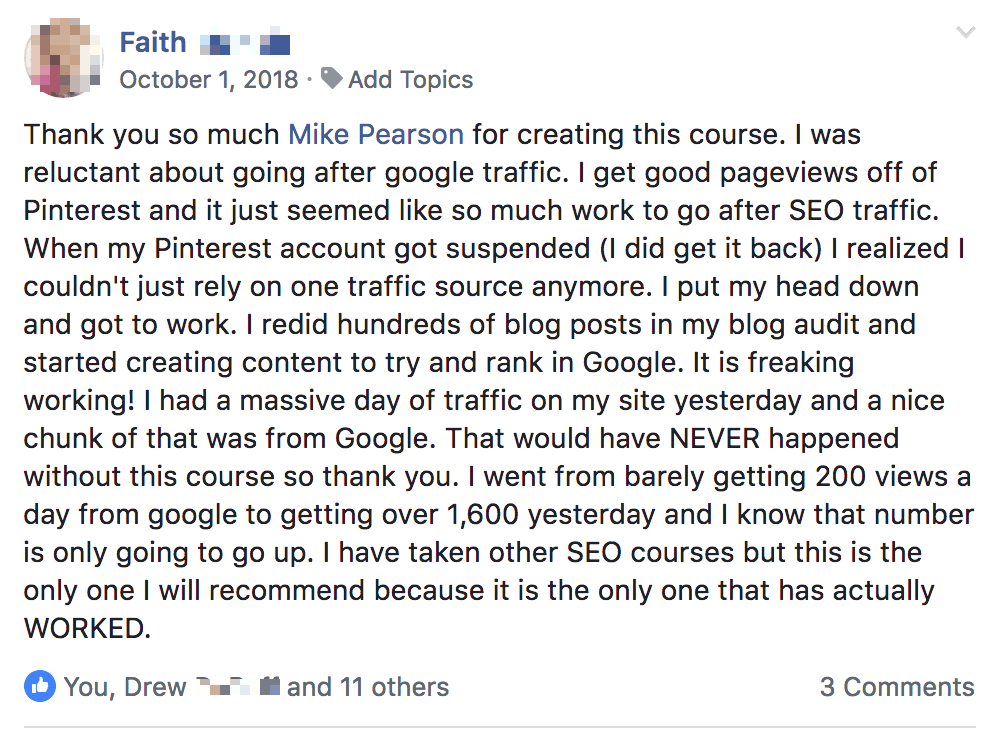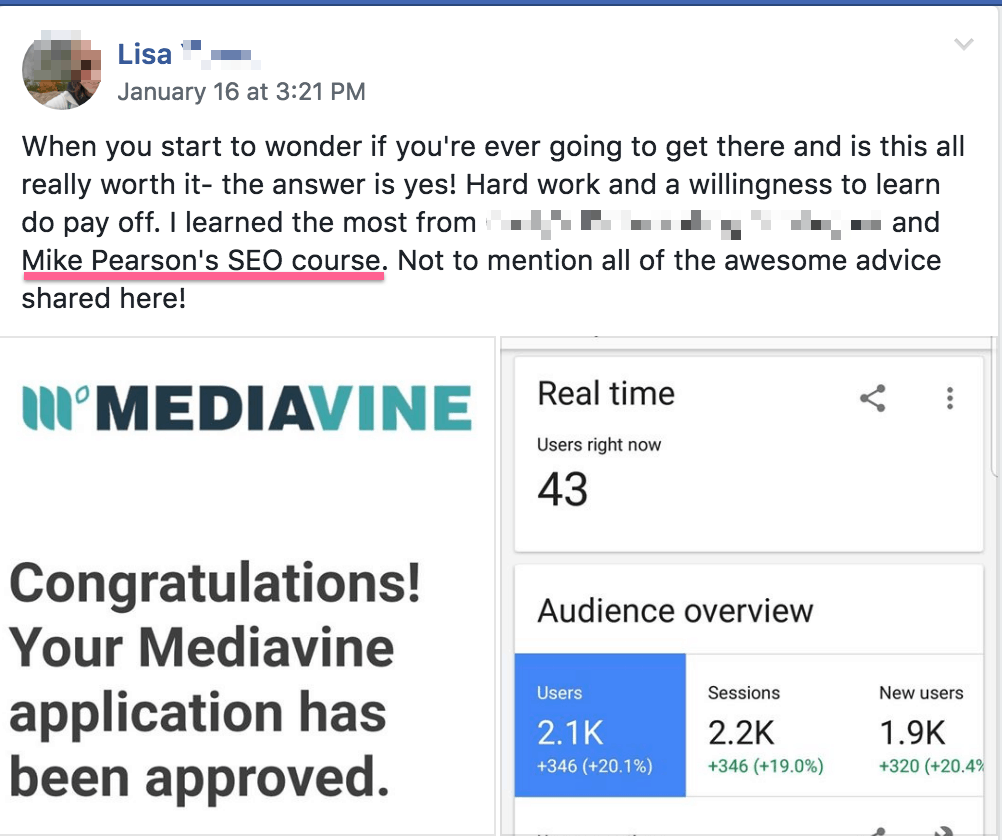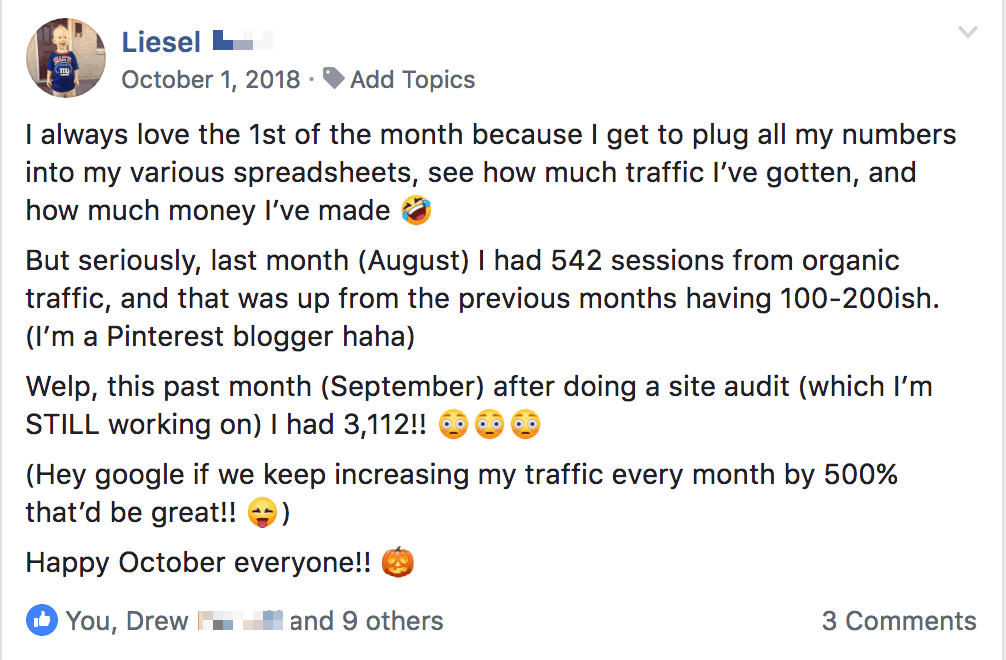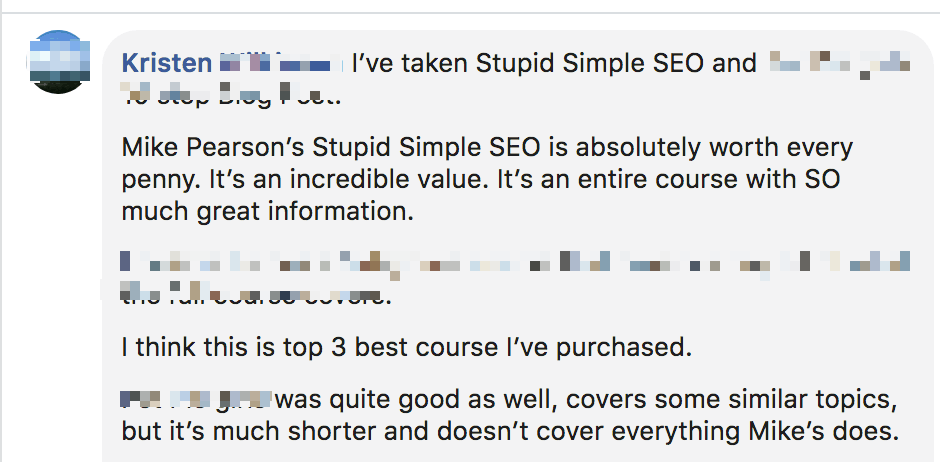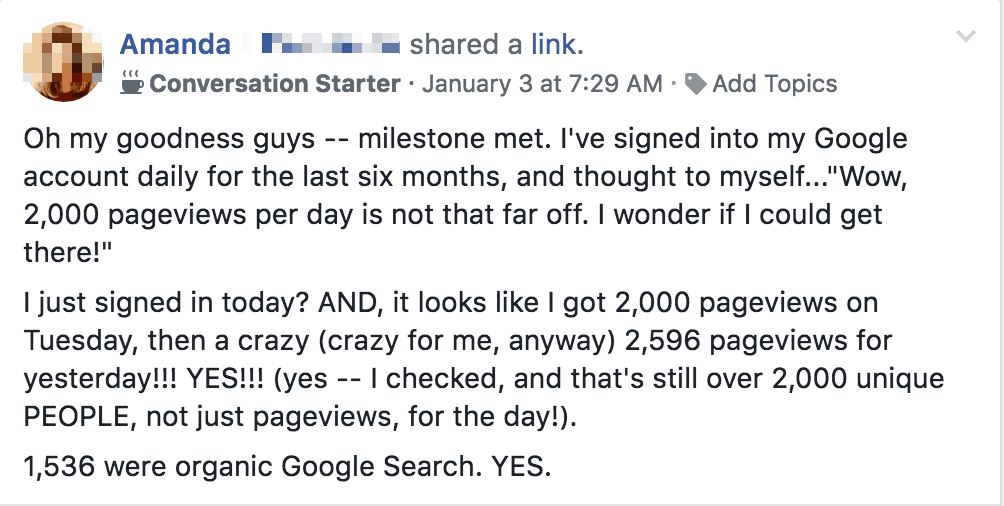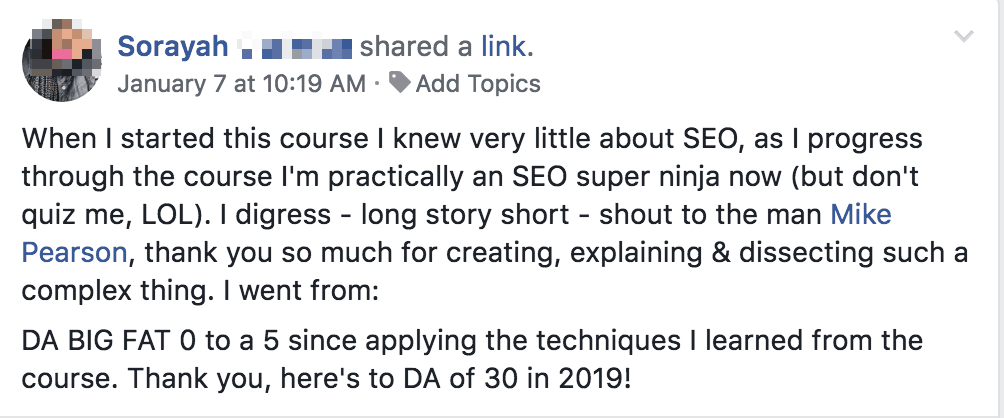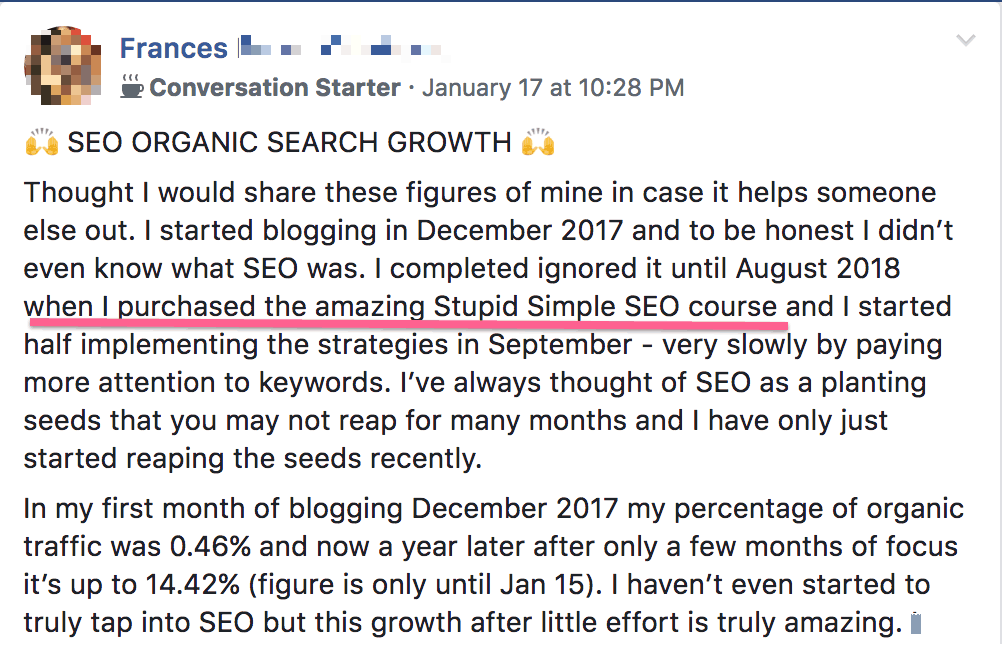 Who Is Stupid Simple SEO For?
---
Bloggers who have a basic understanding of SEO, but need a step-by-step plan to guide them along into taking action.
Stupid Simple SEO is designed to be both beginner and intermediate-friendly.
If you have your blog up and running and are looking to get started using SEO to grow your traffic, then this course is for you!
I've made a great effort to explain things in a beginner-friendly way, while also including tons of intermediate-level strategies that even a beginner can follow.
Those looking to increase their Google rankings and organic traffic.
The whole point of SEO is to bump your keywords up the Google rankings, increase organic traffic to your blog, and as a result, make more money via display ads, affiliate commissions, or product sales.
That's what this course is all about.
Bloggers who want to to diversify their traffic away from Pinterest.
Look, Pinterest is a great source of traffic and many bloggers are making a killing on the platform.
But if you're fed up with their constant algorithm updates, ever-changing guidance on their "best practices", and you are afraid of having all your eggs in their basket, then SEO is a great way to diversify so you're not just relying on one source of traffic.
Who Is Stupid Simple SEO Not For?
People who think SEO results can be achieved overnight.
I'll be honest with you: SEO is a long-term strategy.
There are a couple of factors that go into it—including how old your domain is and how much authority your blog has—but it can take a while (several weeks to a few months) before you start seeing results from your SEO efforts.
This course also requires you to put in the work.
Especially during the Keyword Research Module, you will be spending a lot of time in Ahrefs downloading, sorting, and analyzing data.
And if you follow the strategies I've outlined in the course, your SEO will improve and before you know it, your rankings and traffic from Google will be on the rise.
Bloggers who are 1000% clueless when it comes to SEO.
While this course is definitely beginner-friendly, you should be coming into it with at least a bare minimum knowledge of SEO.
So if you don't know what a "keyword" or a "backlink" is, or you don't know what it means to "rank", or if you've never heard of Google Search Console, you might want to read some of the content on my blog first before signing up.
Advanced SEO professionals.
If you already consider yourself an SEO "expert", then this course is not for you! This is a beginner and intermediate-friendly course.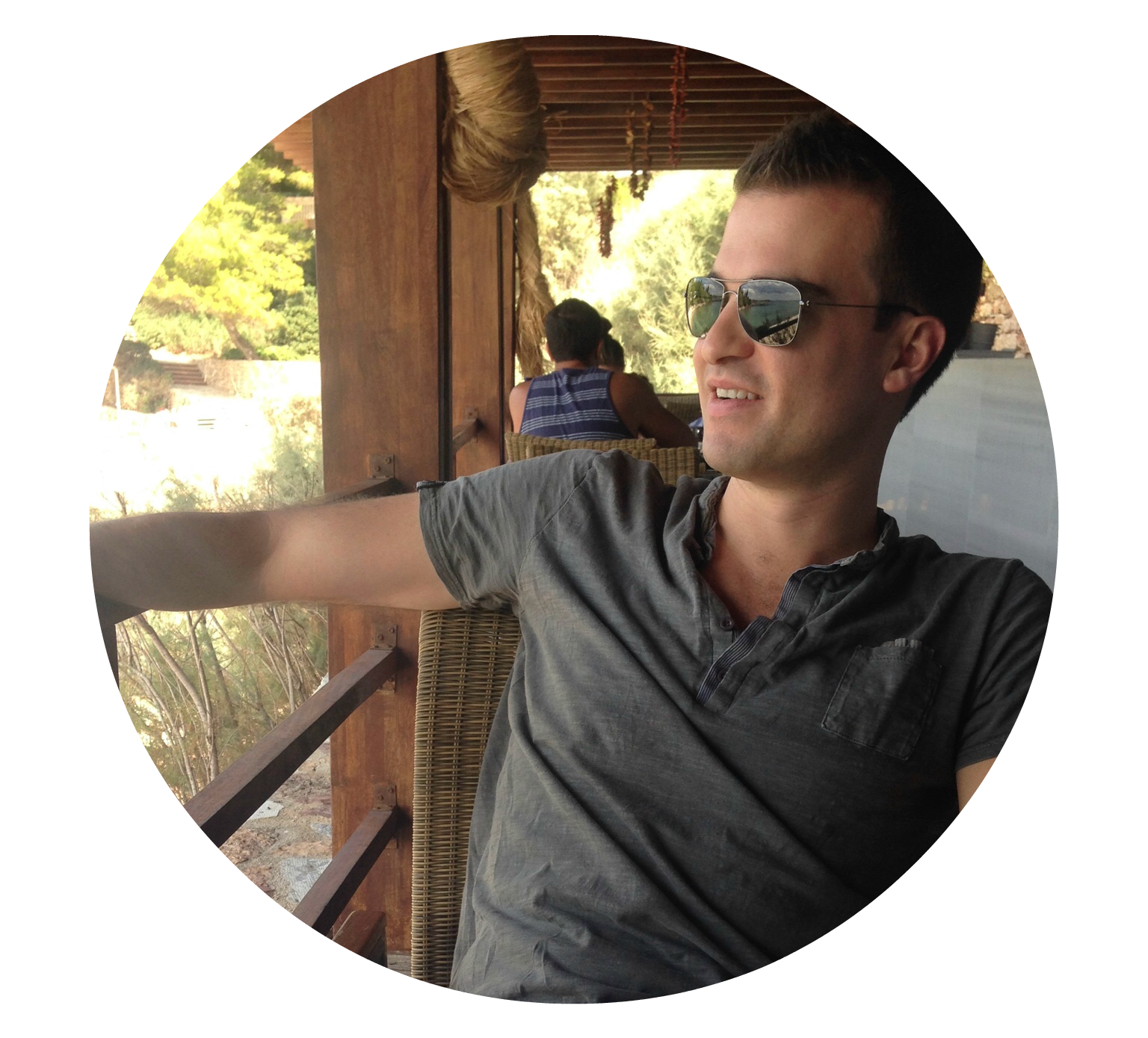 Hi, I'm Mike
I'm the guy behind Stupid Simple SEO.
Five years ago I was sitting in my cube at work brainstorming ways I could make money online.
I had just gotten married and my wife and I had moved into a new apartment, and I was looking for a little side hustle that would help bring in extra income.
It took more than five years and lots of failed attempts at SEO, but I was finally able to grow a site to nearly $100,000 in revenue, almost all of it passive, just by using SEO the right way.
I sold that site after it earned more than $200,000 with just Amazon affiliates alone, and today I spend the majority of my blogging time on my site Stupid Simple SEO, where I teach other bloggers how to rank highly in Google and increase their organic traffic.
The entire premise of my blog is to take a subject (SEO) that many bloggers find confusing, and distill it down into easily digestible yet actionable advice …
And I've designed my course with exactly the same framework in mind.
Don't get me wrong, making SEO work for your blog requires a lot of hard work and dedication, but you'll find that by applying some best practices, you'll be able to skyrocket your blog's traffic and revenue and get found in Google.
I went from total beginner to an advanced SEO by applying the exact same strategies and tactics that I show you in my course, and my goal is to help you do the same.
You can totally do this.
Frequently Asked Questions
What if I'm new to SEO?
I designed this course specifically for beginners, while introducing some intermediate-level strategies that you can also apply. The idea is to have the course be "newbie-friendly" but also extremely actionable and easy to digest.
If you are new to SEO, then Stupid Simple SEO is for you—I take you all the way from structuring your blog so that it's optimized for SEO, to doing proper keyword research (saving you hours of time), to creating epic content that ranks, and then finally building backlinks.
The only caveat to this is if you literally don't even know what SEO is, or if you don't know what a "keyword" or a "backlink" is—in that case, I recommend you establish at least a very basic baseline of knowledge before enrolling in the course.
Will I need to purchase any paid tools?
Yes ... but you will only need to spend $7.
There are a lot of great (but expensive) SEO tools out there today, but I created this course specifically so you don't have to spend a lot of money on tools. We will be using the 7-day trial of Ahrefs, which costs $7.
This means you will need to complete all of the lessons that require Ahrefs within a 7-day period (once you start your trial). There is a dedicated lesson in the course that walks you through how to use your Ahrefs trial.
As you'll see from the videos, this will be some of the best $7 you've ever spent, due to all of the helpful keyword and backlink data you will be able to generate, and all the time that it will save you.
Can't I just use SEMRush / Serpstat / KWFinder instead?
I would definitely not recommended it. I can understand how annoying it might be to have to spend money on another tool if you already have one, but when building the course, I had to choose one tool and run with it.
There are a dozen SEO tools out there (Ahrefs, SEMRush, Serpstat, KWFinder, Long Tail Pro) and it would just not be possible for me to film the course with all of them.
I chose Ahrefs because 1) it's the tool I use personally, 2) it's the best SEO tool out there, and 3) they offer a $7 trial..
Can't I find all of this information for free online?
Not at all!
You might be able find bits and pieces of it here and there … but 1) it's going to take you hours and hours trying to hunt down this information, 2) a lot of the information you find will be out of date and flat out wrong, and 3) you're never going to be able to piece it all together into a coherent flow.
That's the entire reason I created this course in the first place—to provide you with a step-by-step framework you can follow to get you from Point A to Point B, without overwhelming you.
How long do I have access to the course?
You have lifetime access to the course!
Any additions and improvements I make over time (which I have done several times already), will be included with your purchase.
What format is the course in?
100% video!
Every single lesson in the course is a video of my computer screen, either going over a PowerPoint lesson where I'm explaining the "what" and "why" of a particular topic, or showing you over-the-shoulder in my web browser exactly how to do something.
How long does it take to go through the course?
The course is self-pacing, so you can go through it as fast (or slow) as you like. There are 55+ videos totaling more than 11 hours of video content.
The only videos you need to finish in a set amount of time are the lessons which require Ahrefs, because your free trial will last for only 7 days.
I have created a separate video walking you through your Ahrefs subscription and which lessons you need to complete within that time frame (which starts once you begin your Ahrefs trial).
Doesn't 11 hours of video seem overwhelming?

While there is a lot of content inside the course, you do NOT need to watch every single video before taking action.
Every module is designed to be immediately actionable, so if you prefer, you can take it one module at a time—watch all the videos in one module, then implement the strategies, then move on to the next one.
This is especially true of the link-building modules—think of them as having a "menu of options" where you can try one link-building technique, and then maybe a month or two later, try another one.
Do you offer a refund or guarantee?
Absolutely. If you go through the course, implement all the strategies in it, and don't see results, then you can email me within 30 days for a full refund.
I ask that you provide evidence you did the work (e.g. provide me with all of the competitor, keyword, and backlink spreadsheets, as well as copies of the blogger outreach emails you sent) and show you're not getting results.
All refunds are subject to the terms of the full refund policy linked on the footer of this page.
How can I contact you?
Do you have questions about the course, and whether it's right for you?
Just shoot me an email at mike @ stupidsimpleseo .co and I'll be sure to get back to you right away.



Remember: The Course Closes on
Friday, May 17th
Look:
I know you may think it's some sort of marketing gimmick to only have the course be open a few times per year.
But the truth is, the reason I do this is for my students (and my own sanity).
It's crazy to me that from the time I first launched this course last June I've been able to teach 600+ students everything they would possibly need to learn about SEO.
But what I'm finding out is that I can't let these people down.
They've invested their hard earned money in my course and I need them to succeed.
This means being really active inside our private Facebook community answering all their questions.
It means replying to every single one of their emails even though I technically don't offer 1-on-1 support (because I don't have the time).
And when I see people already starting to have results it makes me want to help everyone else that much more.
But I've realized I can't do that if I'm also trying to make sales for the course day in and day out.
I can't work on my sales funnel and actively recruit new students ... while also making sure my current students are getting all the support and time and attention from me that they deserve.
I can't do both things at the same time.
I'm also determined to make this the best SEO course for bloggers that exists today. I really mean that.
And that means constantly updating and tweaking the course with new videos, new modules, and new checklists to make sure it contains all the best and up to date information that you need.
And that's why the course is only open a few times per year.
When is the next time it will be open?
I honestly don't know but it will at least be a couple of months. And I'll likely be increasing the price as I continue to add more course materials.
So if you're serious about getting more traffic to your blog and ranking higher in Google, it's time to enroll in Stupid Simple SEO today.